Apartments Hotel by the Sea Breeze Chios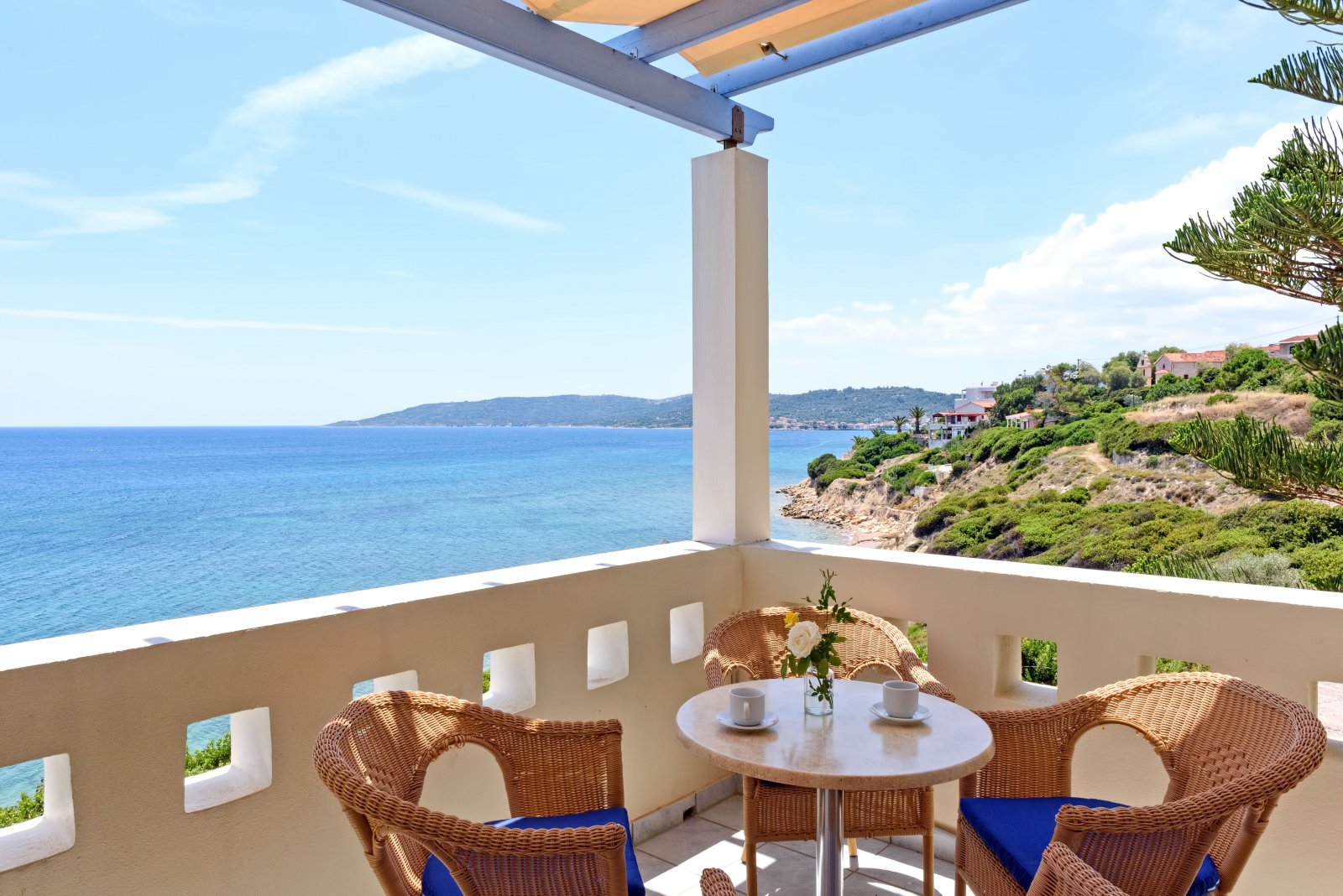 Apartments Hotel by the Sea Breeze Chios:
Apartments inspiring calmness along with the whisper of the waves of the Aegean Sea, we built a reputation for doing things differently than the others, a personal approach to Greek island hospitality.
Surrounded by a forest of mastic trees and olive groves in the background and a wide view of the Aegean sea, location Monolia Kalimasia, Chios near Agios Aimilianos.
We offer apartments of 60, 71, 100 square M2 with a service of a hotel fully furnished with breathtaking sea views and with a natural beach in front. The mastic scented island of Chios, with a fascinating past and a magical present.
Sea Breeze Hotel Apartment's Chios has a mild cliff side commanding position with stunning sea views.
Appealingly located between the beach of Paralia Agias Fotini's and the beach of Agios Aimilianos.
Within 600 meters walking distance to Paralia Agias Fotinis, there are mini markets, tavernas, and a beach bar.
The Apartments are fully furnished large refrigerator, coffee machine, hot water boiler, toaster, radio & cd player.

Local organic, buffet breakfast enriched with fresh homemade flavors, is served daily at 0830 AM till 10.30 AM outdoors near the poolside sitting area, surrounded by nature &  stunning sea views.

Turquoise the name of a greenish-blue and green color of the Aegean Sea, rare and alluring blue and green together, The Aegean Sea is adjacent to the Mediterranean, the first thing that will strike you be the crystal clear, blue-turquoise and so clear sea views.
For your entire day be active with a wide range of activities, enjoy experiencing meeting the locals, learn the culture and traditions, tours, activities, nature walking trails, sailing, journeys things to see do & taste.
Kalimasia Village is at 1 km where you can find almost anything, supermarket, pharmacy.
The coastal fishing village of Kataraktis is 4 km away with local tavernas by the sea serving fresh fish & local cuisine.
Facilities: mini market, pool bar, swimming pool, free Wi-Fi access, satellite, TV Flat widescreen, daily cleaning, linen, bathroom amenities & free parking.
A car is recommended for exploring this mystic and amazing vacation island of Chios with its beautiful beaches and traditional villages.
Go to: Sip chilled ouzo at sea-side restaurants in Kataraktis village or beach-side at Agias Fotinis walking distance, or by the main harbor in town and try grilled seafood that's fresh from the Aegean Sea. Chios can be reached by a 30 -minute flight from Athens Venizelos International Airport as well as from Thessaloniki or a ferry from Piraeus port (ferries take seven to eight hours) via Samos, Lesvos, Kavala & via Cesme-TR 4-5 ferry connections daily during the summer period, winter period a few days a week.
Book Now, Book for Tomorrow, Book for your summer recreational holidays, Book for a weekend break, Secure Booking
TAGS:
#Hotels  #Apartments  #Chios  #Greek Islands  #Aegean Sea  #Vacation #Hoteles  #Otel  un #Hôtel  #Szálloda, #Appartements Avec service