Apartments autonomous by the Sea Breeze Chios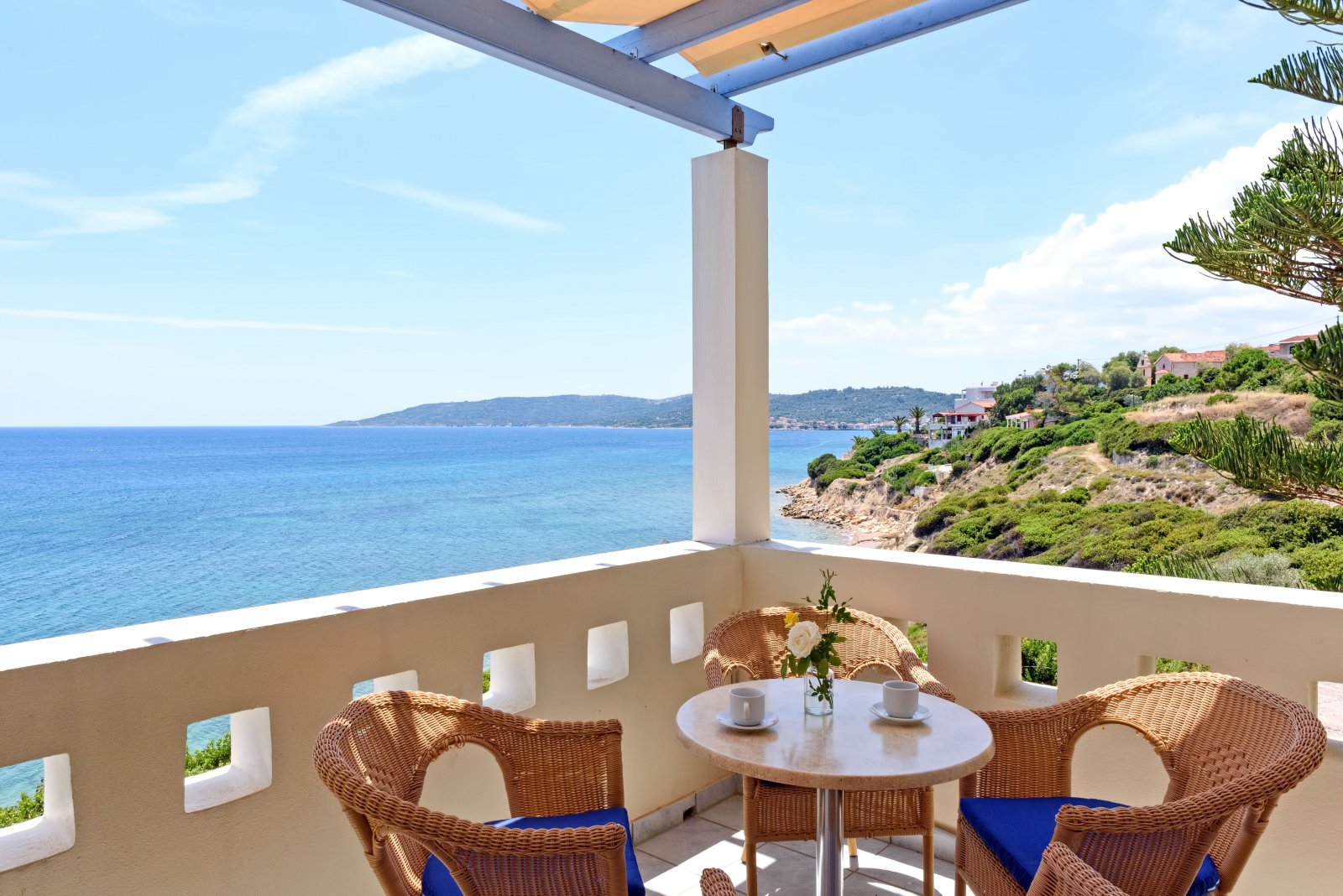 Apartments autonomous by the Sea Breeze Chios
Apartments autonomous by the Sea Breeze Chios inspiring calmness along with the whisper of the waves of the Aegean Sea, we built a reputation for doing things differently than the others, a personal approach to Greek island hospitality.
Surrounded by a forest of mastic trees and olive groves in the background and a wide view of the blue Aegean sea, location Monolia  Agios Ioannis Kalimasia, near Agios Aimilianos.
Its location offers the visitor peace and seclusion, but also the opportunity to enjoy the beauty of nature, and the endless Aegean Sea that unfolds before your eyes. At the same time, it offers easy access to nearby villages and many beaches with breathtaking views, as the Aegean Sea is at your feet with the colors of the sky the sea in concert with the horizon.
We offer independently autonomous apartments of 60, 71, 100 square M2 with a service of a hotel fully furnished with breathtaking sea views and with a natural beach in front. The mastic scented island of Chios, with a fascinating past and a magical present.
Sea Breeze Hotel Apartment's Chios has a mild cliffside commanding position with stunning sea views.
Appealingly located between the beach of Paralia Agias Fotini's and the beach of Agios Aimilianos.
Within 600 meters walking distance to Paralia Agias Fotinis, there are mini-markets, local tavernas, and a beach bar.
The Apartments are fully furnished large refrigerator, coffee machine, hot water boiler, toaster, radio & cd player.
Local organic, buffet breakfast enriched with fresh homemade flavors, is served daily at 0830 AM till 10.30 AM outdoors near the poolside sitting area, surrounded by nature &  stunning sea views.
Turquoise the name of a greenish-blue and green color of the Aegean Sea, rare and alluring blue and green together, The Aegean Sea is adjacent to the Mediterranean, the first thing that will strike you be the crystal clear, blue-turquoise and so clear sea views.
For your entire day stay active with a wide range of activities, enjoy experiencing meeting the locals, learn the culture and traditions, tours, activities, nature walking trails, sailing, journeys things to see do & taste.
Kalimasia Village is at 1 km where you can find almost anything, supermarket, pharmacy.
The coastal fishing village of Kataraktis is 4 km away with local tavernas by the sea serving fresh fish & local cuisine.
Supermarket delivery services, food delivery, pool bar, swimming pool, free Wi-Fi access, satellite, TV Flat widescreen,  daily cleaning, bed linen, towels, laundry on-demand, all bathroom amenities & free parking.
A car is recommended for exploring this amazing authentic island of Chios with its beautiful beaches and traditional villages and its friendly locals.
Remote work-friendly program
Business bookers, we have an area where you can work comfortably with a laptop. Our units have a desk for up to 4 working people, a table (like a kitchen or dining table, a sea view balcony table, or an open space by the pool) a dedicated space for guests to work at.
Stay longer, save more...
Stay for a week, a month, a year, or longer for leisure & or work remotely from Chios Greek Island within nature and next to the Aegean Sea.
Set on our booking engine 7+ nights 14+ nights 30+ nights 
15% off 7+ nights
20% off 14+ nights
25% off 30+ nights
Book Now, Book for Tomorrow, Book for your summer recreational holidays, Book for a weekend break, or work remotely. Secure Booking
TAGS: #Hotels  #Apartments  #Chios  #Greek Islands  #Aegean Sea  #Vacation #Hoteles  #Otel  un #Hôtel  #Szálloda, #Appartements Avec service #work #remotely