The fortifying architecture of Chios 14th & 15th centuries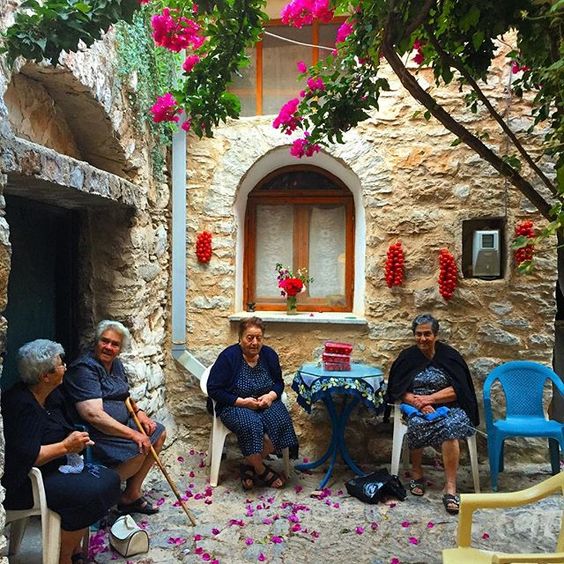 The Fortifying architecture of Chios:
Leaving the city of Chios your scenic island tour begins following the western coastal road of the island.
Your drive continues inland crossing the Kambos plain, one of the most beautiful places on the island, with orchards surrounded by tall medieval walls and gates inscribed with some forgotten coat of arms.
Each of the large medieval houses has a water wheel and, in combination with the meadows, wooden bridges, and old trees, creates a scene of rural peace, unique on the Greek islands.

Masticha Plantation
Continue your tour to  Armolia village, one of the smallest and simplest of the Mastichochoria (mastic villages) where you may enjoy a brief visit to one of the many Masticha plantations of the island and you are able to see the Chios gum (or mastic) trees.
From these bushy trees, cultivated only here in the south of Chios, mastic gum is produced and used in a variety of products among these its therapeutic proven medical use.

Pyrgi
Then proceed to Pyrgi, renowned for its bright houses, many patterned with xysta (grating) decoration. Outer walls are plastered using black sand and coated with whitewash. This is then carefully scraped off in repetitive geometric patterns, revealing the black undercoat.
An example of this is the church of Agioi Apostol oi (St. Apostles), which will be visited and where you may admire its medieval frescoes.

A short refreshment break follows, before continuing your tour to   Mesta, a medieval village which, together with Pyrgi, represents the fortifying architecture of the 14th and 15th centuries on the island. In the center of each village, a defensive tower was erected, in order to protect the peasants from the pirates' invasions.
The narrow, stone-paved streets are joined to the central square.
Here, visit the church of Taxiarchis, a 19th-century church, the largest in Chios which dominates the central square. The atmospheric interior has a fine carved altar screen.
Discover the history of Chios during this half-day panoramic tour with museum and library visits. Although Chios has been prosperous since antiquity, today's island is largely a product of the Middle Ages.
Under the Genoese which controlled the highly profitable gum mastic, the island became one of the richest in the Aegean region & the Mediterranean.